Community & Current Events
Scheduled Events

Date

Time

Event

Location

October 15, 2014

6:30-7:30PM
Fraud & Scam Prevention*

Cancelled




Rockingham County Administration Center*

October 29, 2014
6:00 - 8:00PM
Women's Self Defense*
J. Frank Hillyard Middle School*
November 12, 2014
6:30 - 7:30PM
Mother/Daughter Teen Dating*
Rockingham County Administration Center*
November 19, 2014
6:00 - 8:00PM
Women's Self Defense*
Montevideo Middle School*
*Classes are free and taught by a Rockingham County Sheriff's Office instructor. Register through the Rockingham County Parks & Recreation Department at rockinghamcountyva.gov or call 540-564-3160.
| | |
| --- | --- |
| | Sheriff Hutcheson presenting a plaque of appreciation to Mr. Lanny Beach, owner of Top Bead Welding Service, for the donation of the time and materials to customize the Special Operations Van for our Patrol Division. THANK YOU! |
| | |
| --- | --- |
| Lt. J. Suters, Inv. D. Miller, and Capt. C. Krech at the 2014 Law Enforcement MADD Award Ceremony. | Congratulations to Investigator Doug Miller for receiving the 2014 M.A.D.D. Award for his dedicated efforts to fight impaired driving on our local highways - great work!!! |
SCAM ALERT - 06/18/14:
SCAM ALERT:

On 6/17/2014 the Rockingham County Sheriff's Office received several complaints from citizens involving an individual stating they were Sgt. Joseph Kelly and Officer Jackson with the Rockingham County Sheriff's Office. They were advising individuals they had outstanding warrants for their arrest and they were going to come to the their home to arrest them. They were also using Judge Claybrook's name as the person issuing the warrants. Individuals were told they could pay their fines to avoid being arrested. They also told individuals the Judge was allowing them to pay their fines by going to your local department store and obtaining a Green Dot card. Once the money was put on the card the individual needed to call this number 540-223-1191 and give them the numbers off the card to avoid being arrested.

The Rockingham County Sheriff's Office DOES NOT collect money for fines under any circumstance. If you are contacted by someone claiming to be a member of the Rockingham County Sheriff's Office who is soliciting money for fines, hang up. You may contact the Rockingham County Sheriff's Office at 540-564-3800 with any questions.

| | |
| --- | --- |
| | Congratulations to our four graduates of the 106th Basic Jail School at the Central Shenandoah Criminal Justice Training Academy! All four deputies graduated with academic honors and Deputy Don Delaughter graduated at the top of the class. |
The Rockingham County Sheriff's Office is very pleased to announce that we have just obtained a Bloodhound canine that will be trained to serve our community with search and rescue tracking operations.

A breeder in North Carolina graciously donated a ten-week old Red Bloodhound to the Sheriff's Office and we picked it up this past weekend. The training process for "Lucy" has already begun and it is expected to take approximately eight months to be fully completed.
Crisis Intervention Team Training Graduation

On March 14, 2014, eight deputies from the Rockingham County Sheriff's Office graduated from the 1st Rockingham/Harrisonburg Crisis Intervention Team Training. The 40 hour training enables officers to more effectively communicate with and understand the particular needs of individuals with mental illness. Such individuals may come to the attention of law enforcement and jail personnel due to exhibiting symptoms or behaviors that are misinterpreted as criminal in nature. With this training, deputies are able to reduce the potential for misunderstanding and enhance their ability to de-escalate situations involving persons with mental illness. Additionally, with education about treatment options, deputies are better able to connect individuals with needed treatment consistent with their mental illness, thus avoiding unnecessary incarceration.
Very proud of our 2 Auxiliary Deputies who graduated from the 1st Basic Auxiliary Class on April 8, 2014

(Auxiliary Deputies Everett Clemmer & Bonnie Goff with Sheriff Bryan Hutcheson)

The Rockingham County Sheriff's Office would like to say "Thank You" to the Pilot Club of Harrisonburg for their generous donation. This contribution will go to assist the Sheriff's Office in purchasing equipment for Project Lifesaver.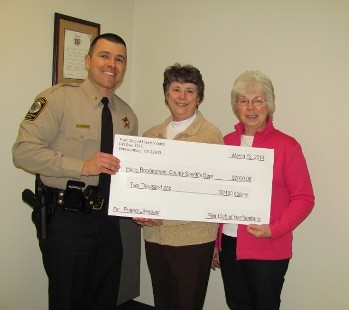 Sheriff Bryan Hutcheson receiving the $2,000 donation from Kathy Clancey & Barbara Roadcap of the Harrisonburg Pilot Club.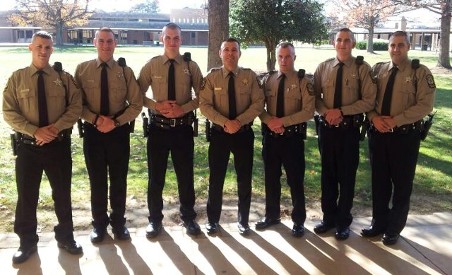 Sheriff Bryan Hutcheson with our six graduates of the 128th Basic Law Enforcement training session.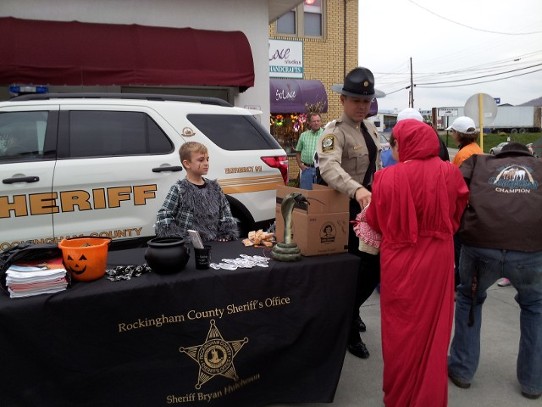 Sheriff Bryan Hutcheson handing out treats at Elkton's annual "Halloween Hoodoo".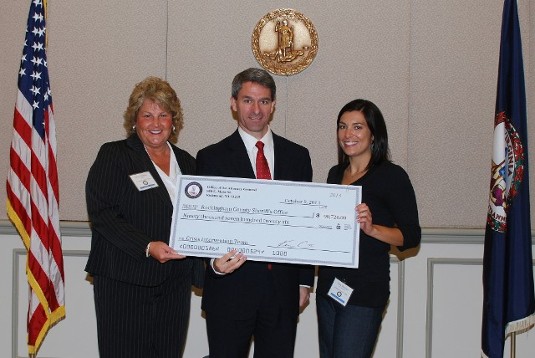 On October 9, 2013, Attorney General Ken Cuccinelli presented a check for $90,726.00 to the Rockingham County Sheriff's Office for their Crisis Intervention Team program. The grant funds will be used for training to help law enforcement officers within Rockingham County and the City of Harrisonburg better respond to crisis situations involving individuals with mental illnesses.
From left to right: Rockingham County Sheriff's Office Captain Kathy Hensley, Attorney General Ken Cuccinelli, Rockingham/Harrisonburg CIT Coordinator Cara Moubray.