Community & Current Events
Scheduled Events
| | | | |
| --- | --- | --- | --- |
| Date | Time | Event | Location |
| Feb. 25, 2015 | 6:00 PM – 8:00 PM | | Wilbur Pence Middle School |
| March 11, 2015 | 6:30 PM – 7:30 PM | | Rockingham County Administration Center |
| March 25, 2015 | 6:00 PM – 8:00 PM | | J. Frank Hillyard Middle School |
| April 1, 2015 | 1:30 PM – 2:30 PM | | Rockingham County Administration Center |
| April 22, 2015 | 6:00 PM – 8:00 PM | | Montevideo Middle School |
| April 25, 2015 | 10:00 AM | Cookies with a Cop* | Plains District Community Center |
*Classes and Cookies with a Cop are free and instructed by a Rockingham County Sheriff's Office instructor but you must register to attend. Register online through the Rockingham County Parks & Recreation Department or call 540-564-3160.
01/06/14

The Rockingham County Sheriff's Office was presented two awards this week in recognition of our continued effort to encourage seat belt use in Rockingham County. The awards were presented by the National Highway Traffic Safety Administration as part of the Click It or Ticket campaign.
| | |
| --- | --- |
| | Crisis Intervention Team (CIT) trained law enforcement and faculty from Rockingham County Sheriff's Office, Harrisonburg Police Department, James Madison University and Harrisonburg-Rockingahm ECC as well as Rockingham-Harrisonburg Court Services took part in a two and a half day training to become certified trainers for the Rockingham-Harrisonburg CIT program called Train the Trainer. These individuals had recently taken part in the 40-hour DCJS approved Crisis Intervention Team training and have now become a bigger part in training future CIT officers for our community. This 20 hour training develops the local 40 hour training faculty to enhance their capacity and expertise to provide a 40 hour CIT training consistently for their team. The Train the Trainer course ensures uniformity among trainers involved with creating and participating in CIT Role Plays, developing effective presentation and proficient feedback skills for students. Congratulations to these dedicated new trainers who graduated December 12th. |
The new 2015 T-shirts & hats for the Law Enforcement Torch Run to support Virginia Special Olympics are now available for pre-orders and should be delivered early next year. T-shirts are Dri-Fit and available in all sizes.


Order Today - We Appreciate your support!
| | |
| --- | --- |
| Congratulations to our Deputies who graduated from the 108th Basic Jail Officer Session on November 18th, 2014 | Deputies Justin Shank, Stephanie Crider, and Lamarr Wharwood with Sheriff Bryan Hutcheson |
| | |
| --- | --- |
| | Sheriff Hutcheson presenting a plaque of appreciation to Mr. Lanny Beach, owner of Top Bead Welding Service, for the donation of the time and materials to customize the Special Operations Van for our Patrol Division. THANK YOU! |
| | |
| --- | --- |
| Lt. J. Suters, Inv. D. Miller, and Capt. C. Krech at the 2014 Law Enforcement MADD Award Ceremony. | Congratulations to Investigator Doug Miller for receiving the 2014 M.A.D.D. Award for his dedicated efforts to fight impaired driving on our local highways - great work!!! |
SCAM ALERT - 06/18/14:
SCAM ALERT:

On 6/17/2014 the Rockingham County Sheriff's Office received several complaints from citizens involving an individual stating they were Sgt. Joseph Kelly and Officer Jackson with the Rockingham County Sheriff's Office. They were advising individuals they had outstanding warrants for their arrest and they were going to come to the their home to arrest them. They were also using Judge Claybrook's name as the person issuing the warrants. Individuals were told they could pay their fines to avoid being arrested. They also told individuals the Judge was allowing them to pay their fines by going to your local department store and obtaining a Green Dot card. Once the money was put on the card the individual needed to call this number 540-223-1191 and give them the numbers off the card to avoid being arrested.

The Rockingham County Sheriff's Office DOES NOT collect money for fines under any circumstance. If you are contacted by someone claiming to be a member of the Rockingham County Sheriff's Office who is soliciting money for fines, hang up. You may contact the Rockingham County Sheriff's Office at 540-564-3800 with any questions.

| | |
| --- | --- |
| | Congratulations to our four graduates of the 106th Basic Jail School at the Central Shenandoah Criminal Justice Training Academy! All four deputies graduated with academic honors and Deputy Don Delaughter graduated at the top of the class. |
The Rockingham County Sheriff's Office is very pleased to announce that we have just obtained a Bloodhound canine that will be trained to serve our community with search and rescue tracking operations.

A breeder in North Carolina graciously donated a ten-week old Red Bloodhound to the Sheriff's Office and we picked it up this past weekend. The training process for "Lucy" has already begun and it is expected to take approximately eight months to be fully completed.
Crisis Intervention Team Training Graduation

On March 14, 2014, eight deputies from the Rockingham County Sheriff's Office graduated from the 1st Rockingham/Harrisonburg Crisis Intervention Team Training. The 40 hour training enables officers to more effectively communicate with and understand the particular needs of individuals with mental illness. Such individuals may come to the attention of law enforcement and jail personnel due to exhibiting symptoms or behaviors that are misinterpreted as criminal in nature. With this training, deputies are able to reduce the potential for misunderstanding and enhance their ability to de-escalate situations involving persons with mental illness. Additionally, with education about treatment options, deputies are better able to connect individuals with needed treatment consistent with their mental illness, thus avoiding unnecessary incarceration.
Very proud of our 2 Auxiliary Deputies who graduated from the 1st Basic Auxiliary Class on April 8, 2014

(Auxiliary Deputies Everett Clemmer & Bonnie Goff with Sheriff Bryan Hutcheson)

The Rockingham County Sheriff's Office would like to say "Thank You" to the Pilot Club of Harrisonburg for their generous donation. This contribution will go to assist the Sheriff's Office in purchasing equipment for Project Lifesaver.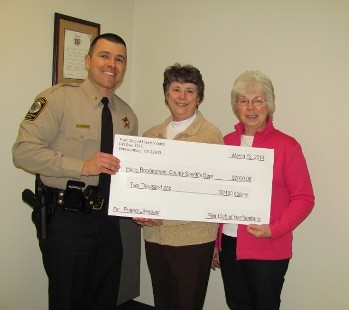 Sheriff Bryan Hutcheson receiving the $2,000 donation from Kathy Clancey & Barbara Roadcap of the Harrisonburg Pilot Club.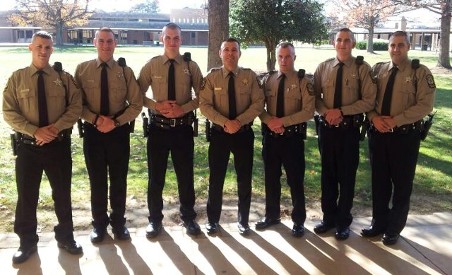 Sheriff Bryan Hutcheson with our six graduates of the 128th Basic Law Enforcement training session.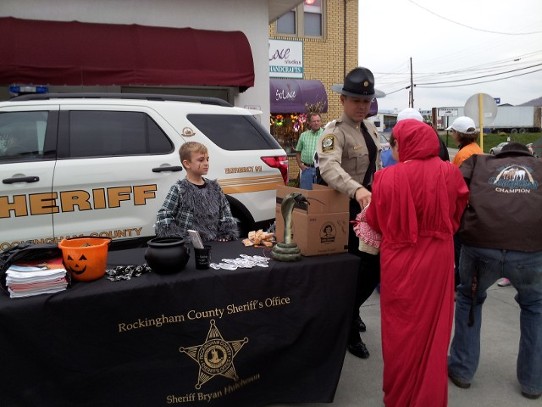 Sheriff Bryan Hutcheson handing out treats at Elkton's annual "Halloween Hoodoo".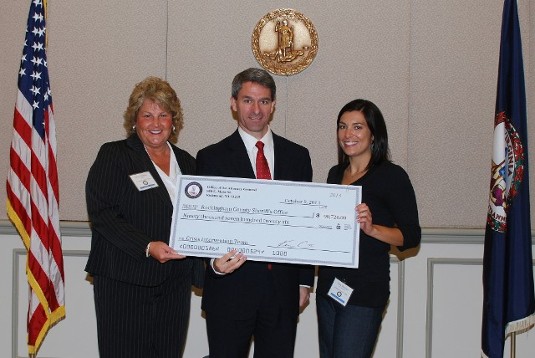 On October 9, 2013, Attorney General Ken Cuccinelli presented a check for $90,726.00 to the Rockingham County Sheriff's Office for their Crisis Intervention Team program. The grant funds will be used for training to help law enforcement officers within Rockingham County and the City of Harrisonburg better respond to crisis situations involving individuals with mental illnesses.
From left to right: Rockingham County Sheriff's Office Captain Kathy Hensley, Attorney General Ken Cuccinelli, Rockingham/Harrisonburg CIT Coordinator Cara Moubray.